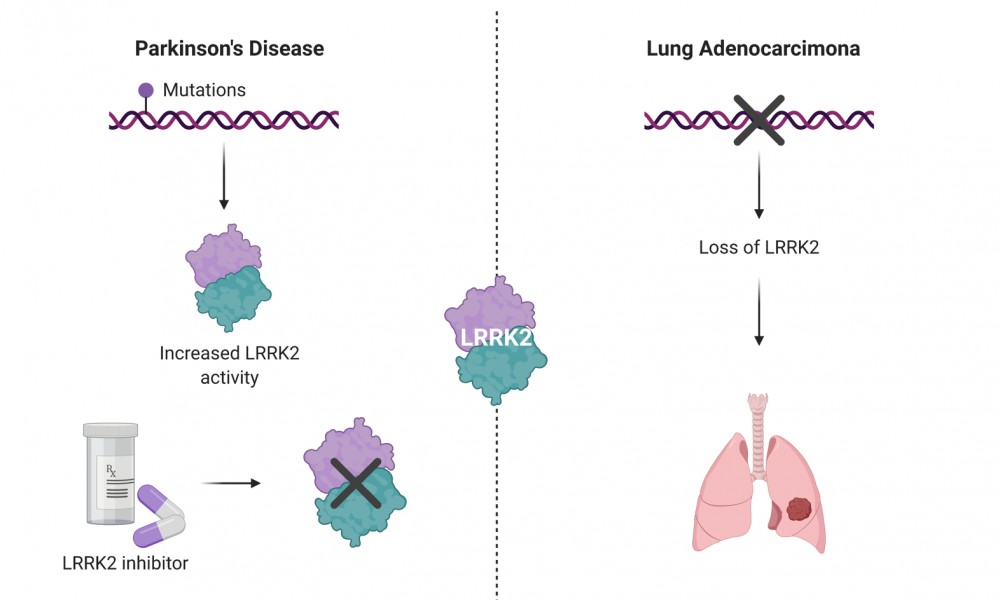 LRRK2 is a highly studied gene in Parkinson's disease, where increased activity is thought to play a causative role. Now, new research has established that decreased LRRK2 expression can be involved in the development of lung adenocarcinoma. With inhibitors of LRRK2 now in clinical trials for the treatment of Parkinson's disease, the discovery that LRRK2 loss can increase lung tumour initiation comes at a key point in time.
The study, published in the journal Scientific Reports, was led by GSC Distinguished Scientist Dr. Sharon Gorski and postdoctoral fellow in her laboratory Dr. Chandra Lebovitz. Their findings provide clinicians with important factors to consider when treating patients with LRRK2 inhibitors, particularly for patients who smoke.
LRRK2 and lung adenocarcinoma
LRRK2 encodes a large, multi-functional protein that is involved in many different cellular processes, including autophagy, cell trafficking and inflammation. In an earlier study published by Dr. Gorski's lab, the research group analyzed genomic data from The Cancer Genome Atlas (TCGA) and discovered that expression of LRRK2 was reduced in lung adenocarcinoma samples compared to healthy controls. Given that overactivity ─ but not yet diminished activity ─ of LRRK2 had previously been examined in various diseases, the team aimed to explore this novel link between LRRK2 and cancer.
In this study, the researchers analyzed associations between LRRK2 expression and clinical data from lung adenocarcinoma patients. They found that low expression was associated with ongoing smoking and poor survival, indicating that smoking may play a role in reducing LRRK2 expression, which in turn may increase the risk of developing and ultimately succumbing to lung cancer.
To further establish a causative link between altered LRRK2 expression and cancer, they turned to a mouse model of lung adenocarcinoma. They found that deletion of the LRRK2 gene perturbed the morphology of cells that give rise to lung adenocarcinoma, called alveolar type II cells, and promoted the formation of tumours within the lungs.
"The findings are exciting because this is the fist time a role for this gene in lung cancer has been shown, and it is the first time that the loss of LRRK2, rather than increased activity, has been described in a disease type," says Dr. Lebovitz, who was first author on the study.
These findings are consistent with Parkinson's disease epidemiological studies that demonstrated a link between brain and lung health. Patients with Parkinson's disease are less likely to develop smoking-related cancers compared to the general population, while ongoing cigarette smoking appears to reduce the risk of developing Parkinson's disease by half. 
LRRK2 inhibitors
Due to the increased activity of LRRK2 in Parkinson's disease, inhibitors have been developed and are currently in clinical trials. While inhibiting LRRK2 activity may prove effective in reducing the burden of Parkinson's disease, it will be important for clinicians to monitor lung health, particularly in patients who smoke.
"It is a key time for this information to be out there because the LRRK2 inhibitors for Parkinson's disease are at the beginning stages," says Dr. Lebovitz. "This is definitely something that clinicians should take into consideration when treating their patients."
The next steps
Now that the link between reduced LRRK2 expression and lung adenocarcinoma has been established, further research is needed to tease out which of LRRK2's many functions is required to prevent cancer formation.
"There's a lot of interest in determining the function of LRRK2 and its involvement in disease, which now includes cancer," says Dr. Lebovitz. "I'm excited to see what the research and medical communities do with this information."
---
Chandra Lebovitz, Nicole Wretham, Maryam Osooly, Katy Milne, Tia Dash, Shelby Thornton, Basile Tessier-Cloutier, Paalini Sathiyaseelan, Svetlana Bortnik, Nancy Erro Go, Elizabeth Halvorsen, Rachel A. Cederberg, Norman Chow, Nancy Dos Santos, Kevin L. Bennewith, Brad H. Nelson, Marcel B. Bally, Wan L. Lam, and Sharon M. Gorski. 2021. Loss of Parkinson's susceptibility gene LRRK2 promotes carcinogen-induced lung tumorigenesis. Scientific Reports. 11(1):2097.
Learn more about research in the Gorski Lab
Learn more about research at the GSC
Funding support for this study was provided by the Cancer Research Society and the Canadian Institutes of Health Research.