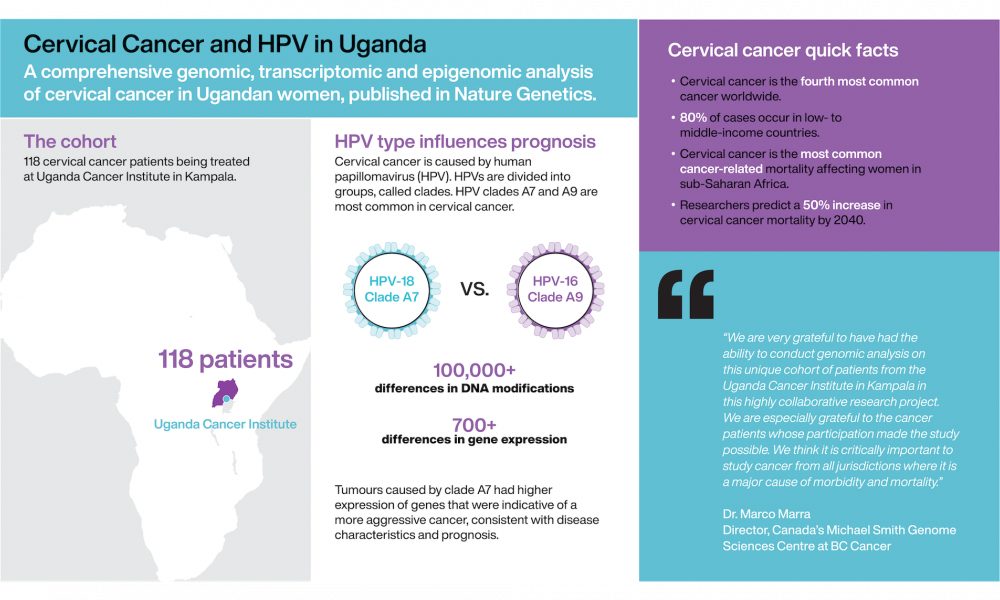 Cervical cancer disproportionately affects women in sub-Saharan Africa where it is the most common cancer-related mortality and has disease rates higher than any other region in the world (1). Yet studies of the disease have predominantly focused on non-African populations.
An international team of researchers, in work led by Canada's Michael Smith Genome Sciences Centre (GSC) at BC Cancer, have now published an analysis of the genomic characteristics of cervical cancers in Ugandan women.
In this study, published in Nature Genetics and led by Dr. Marco Marra, Director of the GSC, researchers conducted extensive analyses of the genomes, transcriptomes and epigenomes of cervical tumours from a cohort of 118 patients being treated at the Uganda Cancer Institute in Kampala.
"We are very grateful to have had the ability to conduct genomic analysis on this unique cohort of patients from the Uganda Cancer Institute in Kampala in this highly collaborative research project," says Dr. Marra. "We are especially grateful to the cancer patients whose participation made the study possible. We think it is critically important to study cancer from all jurisdictions where it is a major cause of morbidity and mortality."
Cervical cancer is the fourth most common cancer worldwide with 80 per cent of cases occurring in low- and middle-income countries. The disease is caused by infection with human papillomavirus (HPV), a sexually transmitted virus capable of causing cancer. While screening and vaccination are effective preventative measures, vaccination rates in low- and middle-income countries remain low. Resource limitations further complicate prevention and treatment strategies (2,3), leading to a predicted 50 per cent increase in cervical cancer mortality by 2040 (4).
HPV type impacts cervical cancer characteristics and disease prognosis
HPV viruses are divided into clades. HPV-16 and HPV-18, belonging to clades A9 and A7, respectively, are the most common causes of cervical cancer, detected in at least 70 per cent of cases. By comparing tumours caused by these two HPV clades, the research team identified previously uncharacterized differences in the tumor epigenomes and transcriptomes and were able to correlate these findings to disease prognosis.
"High-risk HPVs are often grouped together, and they're not really investigated separately," says Vanessa Porter, a PhD candidate in Dr. Marra's laboratory and co-first author on the study. "This study is unique in that it looks at how different high-risk HPV types belonging to evolutionarily distinct clades impact cervical cancer tumour characteristics."
"This study not only highlights stark differences in biological profiles between high-risk HPV clades, but it also demonstrates the utility of looking in populations beyond North America or Europe where large-scale cancer studies have been traditionally conducted," says Emma Titmuss, research programmer at the GSC and co-first author on the study. "Understanding the biological differences between HPV clades is of great interest as this will hopefully lead to improved therapeutics."
By comparing data from tumours caused by different HPV clades, the researchers detected more than 100,000 differences in epigenomic DNA modifications that impact distinct genomic regions and more than 700 genes that were differentially expressed, uncovering a molecular explanation for differences in prognosis. Tumours caused by clade A7 HPVs had higher expression of genes that were indicative of a more aggressive cancer, consistent with disease outcome.
"HPV has been documented to interact with epigenomic modifiers in tumour cells, and many of the viral proteins have a direct effect on the host epigenome. But the clade specificity of this had not yet been explored," says Porter. "These findings indicate that there are clear differences in the epigenomes and transcriptomes of tumours affected by different clades and that these differences may impact disease prognosis."
Hypothesis generating research
"This project is a collaboration with many different institutions and people in Uganda. It has been an incredible experience to be part of something so big," says Dr. Alessia Gagliardi, staff scientist in Dr. Marra's group and lead author on the study.
The project was part of the National Cancer Institute's HIV+ Tumor Molecular Characterization Project and was a collaboration between researchers at the GSC and at research institutions across the USA. The study would not have been possible without the Fred Hutchinson Cancer Research Center and the Uganda Cancer Institute who oversaw sample and data collection in Uganda.
This study is a rich analysis of the genomic characteristics of cervical cancers and will provide researchers around the world with insight into cervical cancer and particularly the influences HPV can exert on tumor genomes.
This study highlights the importance of diversity and inclusivity in study cohorts and suggests that further studies such as this are needed to provide a truly global genomic perspective on cancers and their various causes.
---
Dr. Alessia Gagliardi, Vanessa Porter, MSc., Zusheng Zong, MSc., Reanne Bowlby, MSc., and Emma Titmuss, MSc. were co-first authors on the study.
This study was a collaboration with researchers from the GSC (Vancouver, Canada), the Uganda Cancer Institute in Kampala, the National Cancer Institute (USA), Fred Hutchinson Cancer Research Center (Seattle, Washington), Nationwide Children's Hospital (Ohio), University of California at San Francisco, University of Virginia (Charlottesville), Columbia University (New York), Frederick National Laboratory for Cancer Research (Maryland), The Ohio State University, the Infectious Disease Research Institute (Seattle), Knight Cancer Institute (Beaverton, Oregon), Oregon Health and Science University (Portland), Medical College of Wisconsin (Milwaukee), University of Alabama at Birmingham, and HudsonAlpha Institute for Biotechnology (Huntsville, Alabama). 
This research was funded by the National Cancer Institute, National Institutes of Health, and the Canadian Institutes of Health Research.
Learn more about Dr. Marra's research
Learn more about research at the GSC
Learn more about cervical cancer