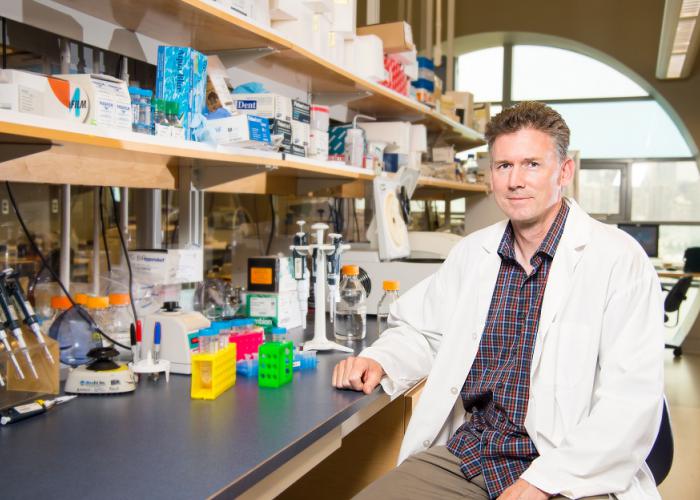 Co-director of BC Cancer Immunotherapy Program will be studying the role microbiomes play in gastrointestinal cancer.
The human body is home to trillions of microorganisms, including bacteria, fungi, and viruses. Together they create ecosystems throughout the body, and are abundant in the gastrointestinal tract. Dr. Holt, along with a distinguished group of 14 researchers from across Canada, The Netherlands, Spain, the USA and UK, have been awarded up to $25 million dollars to determine the role these colonies of microorganisms play and how these roles may relate to cancer risk. At BC Cancer, the main focus of the Holt Lab's work on this project will be to explore new therapeutic strategies which may include new vaccines or antibiotics that would selectively target key organisms within the cancer microbiome.      
Previous work conducted by Dr. Holt and his lab team found an association between a specific type of bacteria and colon cancer, however researchers agree that bacteria and other microorganisms rarely act in isolation. This international research team is conducting a comprehensive study to understand the difference between a healthy microbiome and a microbiome associated with cancer and to find ways of manipulating these ecosystems to better prevent and treat gastrointestinal cancer, and in particular colon cancer. 
By the end of the project, the international team of researchers are set to revolutionize our understanding of the role microbiomes play in cancer development, find new ways of preventing colorectal cancer, and define new treatment strategies through manipulating the gut microbiomes. 
About Cancer Research UK's Grand Challenge: 
Cancer Research UK's Grand Challenge is the most ambitious cancer research grant in the world - a series of multi-million dollar awards seeking international, multidisciplinary teams willing to take on the toughest challenges in cancer - providing the freedom to try novel approaches, at scale, in the pursuit of life changing discoveries.