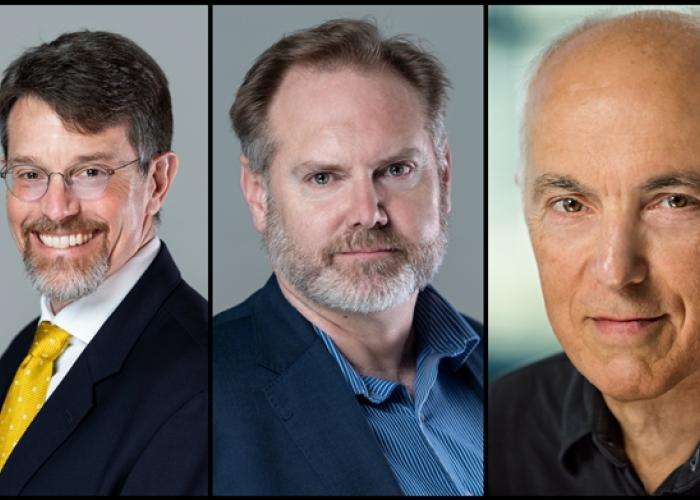 Today the American Association for Cancer Research (AACR) has awarded teams associated with The Cancer Genome Atlas (TCGA)—including three researchers from Canada's Michael Smith Genome Sciences Centre (GSC) at BC Cancer—with a 2020 AACR team science award.
The AACR team science award recognizes outstanding interdisciplinary teams of researchers for their innovative and meritorious science that has advanced or may advance our fundamental knowledge of cancer, or a team that has applied existing knowledge to advancing the detection, diagnosis, prevention, or treatment of cancer.
In recognition of the centre's significant contributions to TCGA, GSC directors Drs. Marco Marra and Steven Jones, and staff scientist Dr. Gordon Robertson will be honoured alongside 126 other scientists with the AACR team science award for current TCGA team members. The AACR will also recognize the founders of TCGA with another AACR team science award.
In 2006, the National Cancer Institute and the National Human Genome Research Institute joined forces to establish TCGA, a landmark cancer genomics program aiming to characterize the genomic changes associated with specific cancer types. By joining TCGA in 2006, the GSC became the only international participant. Over the course of the next 12 years, the concerted efforts of scientists across the USA and at the GSC characterized over 20,000 cancer samples representing 33 different cancer types, opening avenues for improved cancer prevention, diagnosis and treatment.
Together, members of TCGA published more than 70 peer-reviewed journal articles, providing extensive datasets and analyses that will continue to advance cancer research for years to come. Many scientists from the GSC contributed significantly to these studies, with Dr. Robertson listed as the first author on two publications along with several other GSC researchers.
"The data generated by TCGA has proven to be the cornerstone of our understanding of the spectrum of mutations that accrue in human cancer," says Dr. Jones. "It has proven to be key in hypothesis generation for further cancer studies and the insights the basis for many precision medicine studies. The GSC and its staff can be rightly proud of their participation within this program."    
Read more about some of the GSC's contributions to TCGA here:
A. Gordon Robertson, et al. 2017. Integrative Analysis Identifies Four Molecular and Clinical Subsets in Uveal Melanoma. Cancer Cell. 32(2):204-220e15.
A. Gordon Robertson. 2017. Comprehensive Molecular Characterization of Muscle-Invasive Bladder Cancer. Cell. 171(3):540-556e25.