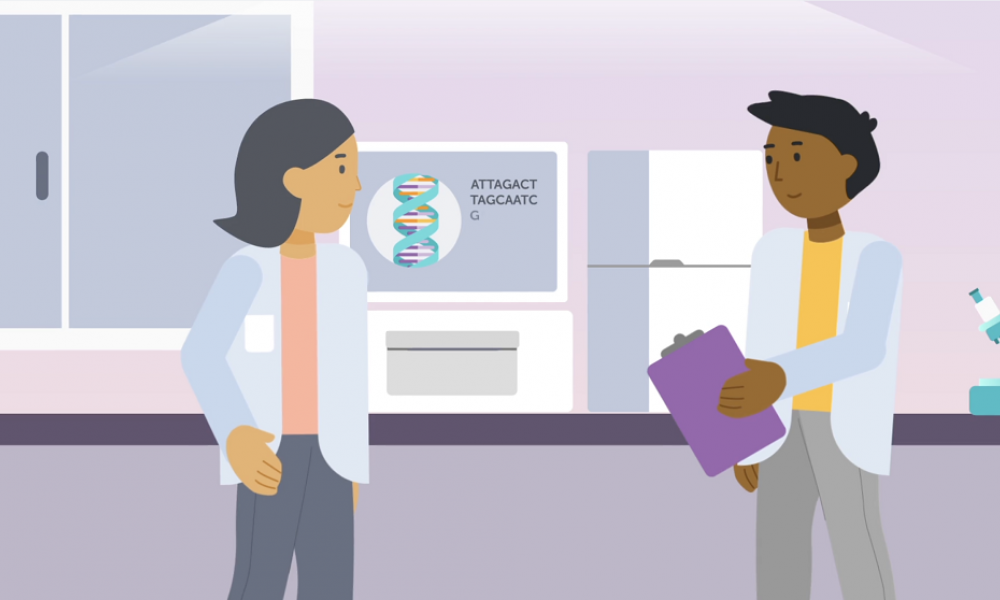 Helping people comprehend cancer genomics—especially those unfamiliar with the science of precision medicine—can be a challenge. To help illustrate the process and benefit of using genomic data for precision cancer treatment planning, BC Cancer's Personalized OncoGenomics (POG) team—in collaboration with both cancer researchers and cancer patient partners that had no prior knowledge of the program—has developed a new animated video that communicates the science in plain vocabulary with engaging graphics in six languages.
---
POG is a patient-centred cancer research initiative, consisting of oncologists, pathologists and other clinical, research and technical professionals, studying the impact of embedding whole genome (and transcriptome) analysis into clinical care for British Columbians with advanced cancers. It is a world-leading, intensive data collection and analysis research program that aims to better identify and understand the underlying causes of cancers: how they grow, how they evolve and how they respond to therapies.
Cancer genomics is complicated, and helping people to better understand the fundamental aspects of leading-edge research initiatives, like POG, is key to, among other things, informed consent of participating patients, developing and furthering the use of genomics in cancer care and practice, the development of new clinical trials, and encouraging new research and data sharing initiatives, such as the Marathon of Hope Cancer Centres Network.
With a Reach grant from Michael Smith Health Research BC, and core program funding from the BC Cancer Foundation, the POG Knowledge Translation working group produced an animated video that explains cancer, genomics and precision medicine using language suitable to many audiences, from experts to those with no knowledge of the science.  
In line with the Reach Program's mandate to promote knowledge translation activities through the development of tools that help researchers extend the reach of their work, the video aims to explain POG to audiences who can use the information to improve cancer care for individual patients as well as researchers helping to advance the field of precision medicine in oncology.
In order to ensure accuracy, the team worked with POG experts, including program co-leads, Drs. Janessa Laskin and Marco Marra, as well as other oncologists, experts and POG professionals in development of the script, storyboard and animation itself. In order to ensure accessibility for lay audiences, the team consulted BC Cancer's Patient & Family Experience Program, working directly with cancer patients with no prior knowledge of POG. This resulted in several rounds of review and revisions; the process took about one year.
The 5-minute animation debuted 17 February 2022 during POG Talks, a regular seminar series for POG professionals. During the seminar, Creative Knowledge Translation to Support BC Cancer's POG Program: An Animation, members of the POG Knowledge Translation team described the development process and emphasized the importance of reaching the right audience by engaging and incorporating feedback from various knowledge users.
"Education and community engagement is a fundamental component of POG and we look forward to sharing this new resource," says Dr. Laskin.
---
Learn more:
Learn more about Personalized OncoGenomics.
Learn more about production of the POG animation.
Learn more about Canada's Michael Smith Genome Sciences Centre.
Learn more about BC Cancer's Hereditary Cancer program.
Learn more about BC Cancer's Patient & Family Experience Program.
Learn more about Michael Smith Health Research BC, and its important knowledge translation initiatives, including funding for KT projects.
Acknowledgements:
Funding for this project was provided by a Michael Smith Health Research BC Reach Grant, with matching funds contributed by the BC Cancer Foundation.
The team is grateful to everyone who provided advice during development of the animation, especially the patients who participated through BC Cancer's Patient & Family Experience Program, including Cree Elder Joy Dockrey, Alan Soon, Deb Shimizu, Emily Charette, Erin Barrett, Mark Avrum Drutz, Michelle Lim and others who wish to remain anonymous.