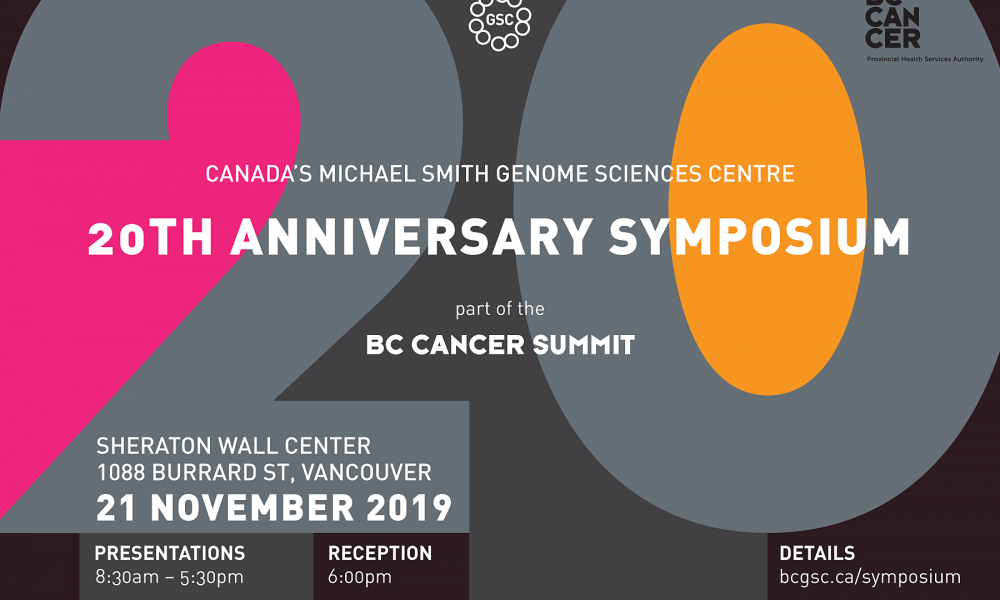 This November marks 20 years of science, discovery, innovation, collaboration and education at the BC Cancer Genome Sciences (GSC).To celebrate, 16 GSC researchers, partners, former trainees and leaders in the field of genomics will give presentations at a celebratory scientific symposium.
Twenty years ago, the BC Cancer Genome Sciences Centre (GSC) was created. In November 1999, Drs. Don Carlow, Victor Ling and Simon Sutcliffe, along with leaders from BC Cancer and Nobel Laureate Dr. Michael Smith, worked together to create the world's first genome centre embedded within a cancer clinic.
On Thursday, November 21, in celebration of our 20th anniversary, we're hosting a scientific symposium. For more information and to register, visit: bcgsc.ca/symposium
Over the past two decades, the GSC has trained more than 1,300 individuals, published nearly 1,300 peer-reviewed articles garnering more than 95,000 citations, contributed to over 850 research projects, participated in thousands of national and international collaborations and produced more than a mind-boggling 2 x 1015 bases (or 2 peta-bases) of DNA sequence — approximately equivalent to that of 660,000 human genomes.
Twenty years of advancing the field of genomics, contributing to our knowledge of biology and working to improve the lives of cancer patients worldwide is cause for celebration. And what better way to celebrate than to bring together GSC researchers, collaborators, past trainees, their trainees and other luminaries in the field who have worked with the GSC, helping it become what it is today.
On November 21, on the first day of the 2019 BC Cancer Summit, the GSC will host a scientific symposium at the Sheraton Wall Centre in downtown Vancouver. Sixteen leaders in genomics will give presentations, highlighting the technological advances and groundbreaking discoveries that are being made today and the challenges that must be overcome moving forward.
We hope to see you there!
Join the conversation, share and read stories about the GSC by following #GSC20 on social media.