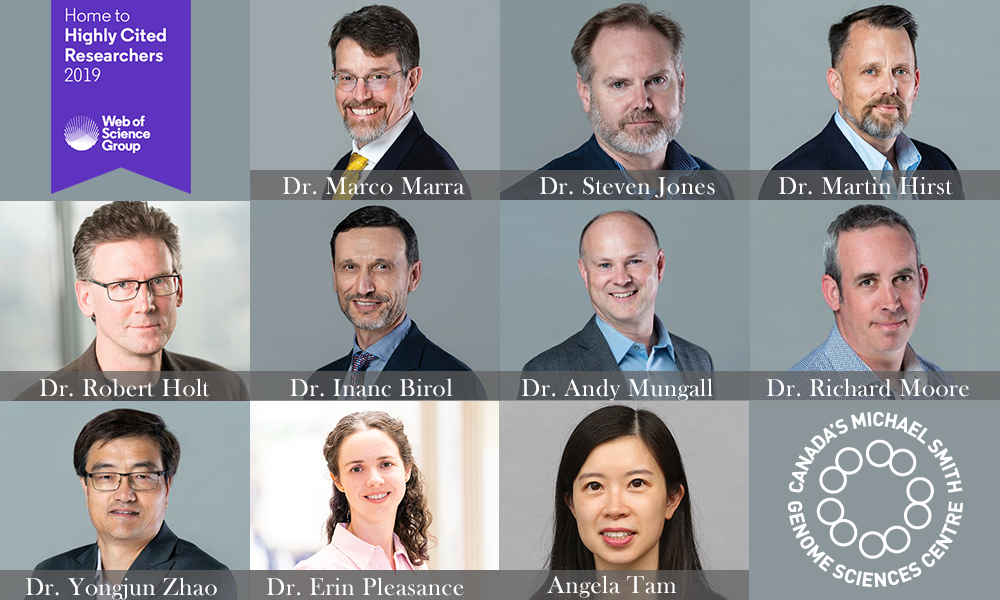 Every year, scientists and scholars worldwide publish their findings in academic journals and proceedings, producing papers estimated in the range of more than two million. How does the research community determine the papers with the most value? Citations are one way, and a paper that other scientific authors have frequently cited has arguably proved itself to be highly significant.
This is the approach taken by Clarivate Analytics, which quantifies the number of citations for specific scientists in various disciplines and generates a list of Highly Cited Researchers—those who produce multiple papers ranking in the top one per cent by citations for their field. The select few that make it onto this list represent just 0.1 per cent of researchers worldwide.
For the past five years, GSC scientists have been on that list, including GSC Director Dr. Marco Marra who has been listed every year since 2014 (see this BC Cancer video interview with Drs. Marra and Steven Jones when they were listed in 2016).
In 2019, 183 researchers made the list in Canada, and eleven of them are scientists here at the GSC:
Dr. Marco Marra, Director
Molecular Biology & Genetics
Dr. Steven Jones, Co-Director
Molecular Biology & Genetics
Dr. Martin Hirst, Head of Epigenetics
Molecular Biology & Genetics
Dr. Robert Holt, Distinguished Scientist
Molecular Biology & Genetics
Dr. Inanc Birol, Distinguished Scientist
Cross-Field
Dr. Andy Mungall, Group Leader
Cross-Field
Dr. Richard Moore, Group Leader
Molecular Biology & Genetics
Dr. Yongjun (YJ) Zhao, Group Leader
Cross-Field
Dr. Erin Pleasance, Staff Scientist
Cross-Field
Angela Tam, Production Coordinator
Molecular Biology & Genetics
Jacqueline Schein, former Staff Scientist
*retired from the GSC since 2015.
Molecular Biology & Genetics
Researchers are selected for their exceptional performance in one or more of 21 fields. This year, 6,216 researchers are named Highly Cited Researchers—3,725 in specific fields and 2,491 for cross-field performance.
"Recognition and support of these exceptional researchers represents an important activity for a nation or an institution's plans for efficient and accelerated advancement," said David Pendlebury, Senior Citation Analyst at the Institute for Scientific Information. "The Highly Cited Researchers list contributes to the identification of that small fraction of the researcher population that contributes disproportionately to extending the frontiers of knowledge. These researchers create gains for society, innovation and knowledge that make the world healthier, richer, more sustainable and more secure."
The continued presence of GSC researchers among the 0.1 per cent of scientists by citations since 2014 exemplifies our extraordinary cutting-edge research that is pioneering the application of genomics to precision oncology, making a difference in the lives of cancer patients here in B.C. and around the world.