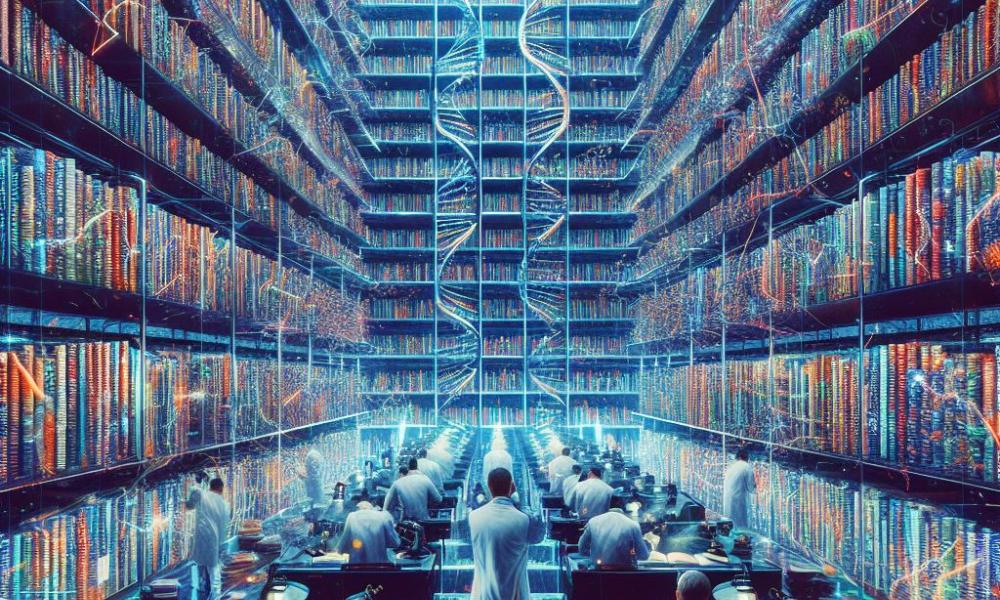 From: Canadian Institutes of Health Research
October 27, 2023 – Montreal, Quebec – Canadian Institutes of Health Research
Canada is a world-leader in genomic research—the study of all of a person's or population's genes. The field, which involves sequencing genomes to identify variations that give researchers a better understanding of health and disease, holds enormous potential for improving the health of Canadians.
For example, through sequencing, scientists can pinpoint which genetic mutations cause disease, tailor medical treatments to people's specific genetic makeup, detect people's risk for developing inherited diseases, trace how viruses like the one that causes COVID-19 spread and evolve, and study the DNA of groups of people living with a disease to uncover how to treat or even cure it in the future.
Despite Canada's research capacity and many established genomics laboratories, there is no national database or strategy for how to capture, store, and access Canadian genomic data in an equitable, secure, and sustainable manner.
To close this gap and harness the potential of genomic medicine, the Minister of Health, the Honourable Mark Holland, announced today a $15 million investment to create a Pan-Canadian Genome Library which will allow for easier sharing of genomic data across the country. The funding comes from the Canadian Institutes of Health Research (CIHR) and builds on investments from the Government of Canada's National Strategy for Drugs for Rare Diseases.
The Pan-Canadian Genome Library, led by Dr. Guillame Bourque, Director of Bioinformatics at the McGill Genome Centre, will provide researchers and health care professionals with a centralized database that reflects the rich diversity of people living in Canada. A core principle of the Genome Library is Indigenous control over genomic datasets of Indigenous Peoples to ensure autonomy and respectful use of Indigenous health data. With this investment in the Genome Library, Canada remains a leader in genomic research that is diverse and equitable and ready to be used by health care professionals.
The Library was developed through a strategic partnership between CIHR, Genome Canada, the Digital Research Alliance of Canada, and CGEn, which is Canada's national platform for genomic sequencing and analysis. It will be hosted at CGEn, which includes the McGill Genome Centre at McGill University in Montreal, The Centre for Applied Genomics at The Hospital for Sick Children (SickKids) in Toronto, and the Michael Smith Genome Sciences Centre at BC Cancer in Vancouver.
Quotes
"This investment in the Pan-Canadian Genome Library is an exciting step for our country as a leader in genomic research. Our government is proud to support this project and the cutting-edge research it will help—because when we invest in research, we are investing in better health outcomes for Canadians."

The Honourable Mark Holland
Minister of Health
"Canada is a leader in genomic research, but Canadians really benefit from this research when it is accessible to health care professionals and researchers across the country. This is why the Pan-Canadian Genome Library is so important: it makes genomic research shareable and equitable. Now, professionals across the country can access important genetic information that will help treat patients and improve health outcomes."

Dr. Christopher McMaster
Scientific Director, CIHR Institute of Genetics
"Over the last two decades, billions have been invested in genomics in Canada and the potential impact on medicine for the country is immense. The Genome Library aims to realize this potential by organizing and sharing genomic data efficiently and ethically to support research and the clinical care of people across Canada."

Dr. Guillaume Bourque
Professor, Human Genetics, McGill University
"The power and promise of large-scale and actionable genomics data is the foundation of Canada's precision health future. Genome Canada is proud that our investments through the Canadian COVID Genomics Network (CanCOGeN) and All for One will seed the work of the Library. And we look forward to realizing the Library's national impact through our future mission-driven initiatives to support healthy populations in Canada."

Dr. Rob Annan
President and CEO, Genome Canada
"Once established, the Genome Library will be used to store the genomic and health data of over 10,000 Canadians who participated in the national HostSeq initiative. Through the Library, this diverse dataset will be shared through controlled access with the research community. This is an enormous step in terms of making genomics-backed research a reality for Canadians."

Dr. Naveed Aziz
CEO, CGEn – Canada's national platform for genome sequencing and analysis
"The Genome Library is an exciting example of the potential of large-scale shared data infrastructure and initiatives, and is paving the path for a future where we can work together to resolve complex data-related challenges to the benefit of researchers and all Canadians."

George Ross
CEO, Digital Research Alliance of Canada
Quick facts
Genomics is the study of all of a person's or population's genes, and is useful for more personalized treatment of disease, especially rare diseases. Genomic data can also be used to predict the likelihood of diseases occurring and which individuals or groups might be predisposed to certain diseases.

The Pan-Canadian Genomic Library, with an investment of $15 million over 5 years, is the Government of Canada's first investment to establish a national, centralized genomic data management system. This database will allow health care professionals to capture, store, and access Canadian data in a secure, equitable, and sustainable manner.

The Library, which includes strong Indigenous governance, has provisions for the respectful use of Indigenous genetic data that fully respects Indigenous Peoples' self-determination over their health data.

The initial datasets to be made available through the Library have been produced through investments by the Government of Canada, through Genome Canada, including the Canadian COVID-19 Genomics Network's (CanCOGeN) Host Seq platform, led by CGEn, and All For One, Canada's national rare disease initiative that has enabled equitable access to genome-wide sequencing across six provinces. Additional datasets will be provided by the Terry Fox Research Institute's Marathon of Hope Cancer Centres Network and other projects. Users of the Library will also benefit from data tools developed by Digital Research Alliance of Canada as well as standards and policies established by the Global Alliance for Genomics and Health.

In March 2023, the Government of Canada announced measures in support of the first-ever National Strategy for Drugs for Rare Diseases, with an investment of up to $1.5 billion over three years. Through this, the Government will help increase access to, and affordability of, effective drugs for rare diseases to improve the health of patients across Canada, including children.
Associated links