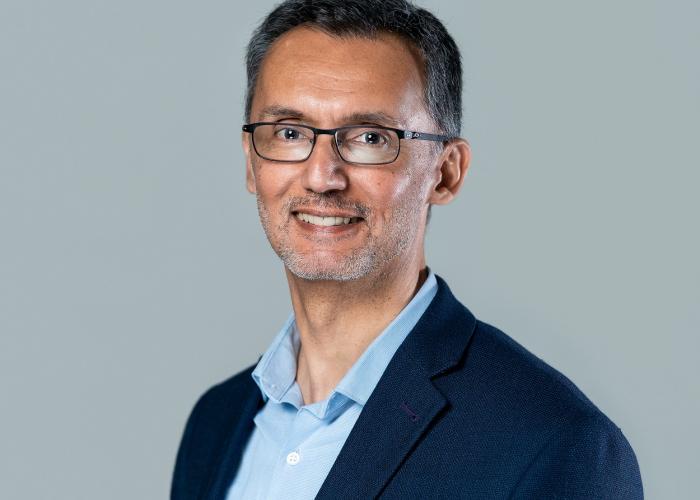 Dr. Aly Karsan has been awarded a UBC Killam Research Award, a prestigious UBC Faculty Research Award. This award recognizes faculty who have a track record of outstanding research and scholarly contributions. Dr. Karsan was 1 of 4 UBC Killam Research Prize recipients from the applied science, medicine and sciences area, in the Senior Category.
Dr. Karsan is a distinguished scientist at Canada's Michael Smith Genome Sciences Centre (GSC) at BC Cancer, principal investigator at the UBC Centre for Blood Research, and is a UBC professor of Pathology and Laboratory Medicine. In addition to the UBC Killam Research Prize, he has received numerous awards, including 10 years as a clinician-scientist awardee of the Canadian Institutes of Health Research, 10 years as a scholar of the Michael Smith Foundation of Health Research and recipient of the Genome BC Award for Scientific Excellence in 2020. He is currently the recipient of the John Auston BC Cancer Foundation Clinical Scientist Award.
After receiving his MD from Queen's University in Kingston, Ontario and a rotating internship at Lion's Gate Hospital, Dr. Karsan practiced medicine in rural B.C. and the Northwest Territories before working as a volunteer with Médecins Sans Frontières. He then completed his residency in Hematological Pathology at UBC followed by a Research Fellowship at the University of Washington.
Dr. Karsan is internationally recognized in the field of blood cancer research. His translational research lab has generated seminal work on the role of noncoding RNAs and innate immune signaling in blood cancers, and in understanding the mechanisms of resistance to immunomodulatory therapy in myeloid cancers. He currently leads a team of six principal investigators in a Terry Fox Research Institute Program Project in acute leukemia research. He is a member of various international hematology committees including: the International Working Group for Prognosis in Myelodysplastic Syndromes (MDS), the Experimental Hematology Subcommittee of the Society for Hematopathology, and the Laboratory Assays Working Group for the Myeloid Malignancies Precision Medicine Initiative. He is study co-chair representing the Canadian Cancer Trials Group (CCTG) for the Master Screening and Reassessment Protocol for the National Cancer Institute (NCI) myeloMATCH clinical trials. In 2002, he co-founded the Centre for Blood Research at UBC with nine other principal investigators.
Dr. Karsan is also a recognized leader in delivering clinical genomic assays. He established the first clinically-accredited Next Generation Sequencing lab in Canada, the Centre for Clinical Genomics (CCG), which was among the first few in the world. Based within the GSC at BC Cancer and supported by PHSA, the CCG delivers cancer genomic testing to the entire population of B.C. This pioneering work in using next generation sequencing (NGS) technologies for clinical delivery has led to the development of various novel technologies for clinical genomic testing including a unique genetic barcoding system to track patient samples, development and implementation of clinical reporting software for NGS, development of a transcriptomic (RNA sequencing) test for leukemia and clinical validation of a non-invasive prenatal test (NIPT) by whole genome sequencing in a Genome Canada consortium. He has led clinical trials in leukemia and solid tumour genomics and hereditary cancer diagnostics. These innovations led to a reduction of wait times for hereditary cancer testing, reduced per test costs and have increased the breadth of genes able to be tested.
The UBC Office of the VP, Research and Innovation will be hosting a reception on June 3 to acknowledge the award winners. Congratulations Dr. Karsan on this award!