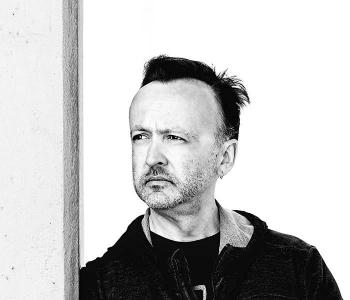 Martin Krzywinski has been an integral part of the GSC since its very beginnings in 1999. Shortly after completing his Masters degree in Medical Physics, Martin was recruited by Dr. Steve Jones as a System Administrator.
"I had never thought I would end up working with biologists," says Martin, "When Steve asked me to join, I had no idea what I was getting myself into."
For Martin, the biological implications didn't concern him too much. There was computing and there was data; his bread and butter. Martin describes the early days of the GSC with great fondness. It was a time when everyone did a little bit of everything, when the entire group would assist in unpacking and installing new laboratory equipment. It was a time when he could see everyone from his desk, including the Founding Director and Nobel Laureate Dr. Michael Smith.
"One of the milestones is that everyone has become very specialized," says Martin, "So while it has become less intimate, it has also become more efficient. The world of the GSC has expanded enormously."
Martin got involved early on writing code for data analysis and visualization, becoming a Staff Scientist in 2004. It soon became clear that Martin had a talent that many scientists lack. He is passionate about science communication and how to represent data effectively, efficiently and beautifully. He is an artist. His canvas is a computer and his medium is data.
"It is hard to describe my role as a Staff Scientist at the GSC," says Martin, "Some days I am a scientific artist and other days I am an artistic scientist."
In 2009, Martin published a landmark paper in Genome Research describing an innovative way to visualize genomics data. Thinking outside the box and inside the circle, Circos plots turn incomprehensible data tables into intuitive and efficient visualizations of complex relationships. With over 9,000 citations, features on the covers of Science and Nature and appearances in a variety of publications including Wired, New York Times and American Scientist, Circos plots have been widely adopted by the scientific community.
When Martin is not revolutionizing genomics data visualization, he is teaching other scientists and trainees how to effectively communicate science, running workshops on data visualization, preparing graphics for magazines and journal covers, giving art direction for posters and working on documentaries.
As someone who has been around since the beginning of the GSC, Martin has had the opportunity to watch it grow and transform over the years. He has watched how, with each new wave of laboratory equipment and technological developments, bioinformatics and computational tools have evolved symbiotically along with it. As a data visualization expert who likes a challenge, the last 20 years have been extremely engaging and have given Martin plenty of opportunity to let his creativity flow. But while Martin came to the GSC for the data, he stayed for the people.
"I used to be a lot more focused on the subject matter rather than the people," says Martin, "But now I know that what works for me is being next to people I respect and admire. I am in awe of the fact that many of the people who started the GSC are still here. They are deep thinkers who are kind, collaborative and interesting people, beyond the fact that they are great scientists. I want to use my strengths to support them in ways that I find engaging."
---
Learn more about Martin's work on his website at mkweb.bcgsc.ca.