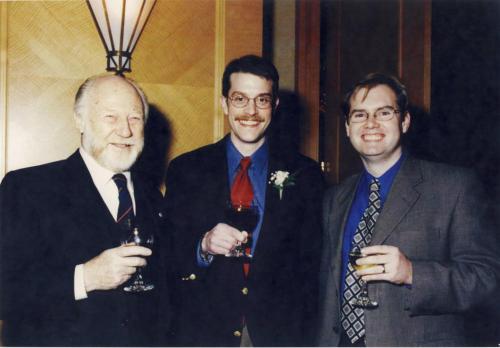 In celebration of our 20th anniversary, on Friday, November 15, 2019, our technology platform will be open to the public. Tours will be offered from 10am until 3pm and a reception will follow from 5pm to 10pm, including signature cocktails, catered hors d'oeuvres and live music. Come to learn more about our state-of-the-art genome sequencing and bioinformatics technology facility. Stay to toast 20 years of world-leading science at the GSC!
Date

November 15, 2019

Time

Registration is required for a tour and to attend the reception.

10am to 3pm: public tours provided—select and register for your preferred time below. Each tour is limited to 20 people. If your preferred time is no longer available, please add your name to the wait list. 

5pm to 10pm: invitation-only reception—RSVP HERE!

Tour times and registration: 

10 am to 11 am — wait list: register here

11 am to 12 pm —wait list: register here

12 pm to 1 pm — wait list: register here

1 pm to 2 pm — wait list: register here

2 pm to 3 pm — wait list: register here 

Location

Echelon Innovation Centre
570 West 7th Avenue, Vancouver, B.C.

Parking: free underground parking is available at the facility after 3pm.

RSVP

Registration for the evening reception is required. RSVP here. 

Attire

Come as you are, but please remember that this celebration is being held in a laboratory facility and that proper laboratory attired is required, including shoes that fully cover feet and pants or dresses that fully cover legs.

Swag

Coming soon!

Information

You're welcome to bring guests, but please RSVP now on behalf of everyone that you plan to bring. Attendance is limited to 500 people. If you or one of your guests are no longer able to attend, please cancel your order ASAP.

Please note that photography and video recording will take place during this event. By participating, you are acknowledging that you are aware of this and are willing to have your picture taken and shared publicly. 

For more information, please write to info@bcgsc.ca

Sponsorship

Please write to info@bcgsc.ca to learn more about our sponsorship package. 

History

Twenty years ago, Drs. Don Carlow, Victor Ling and Simon Sutcliffe, leaders at the BC Cancer Agency, as it was known then, working with Nobel Laureate Dr. Michael Smith, and with leadership and critical support from the BC Cancer Foundation, created the world's first genome centre embedded within a cancer clinic.

Over the past two decades, the GSC has worked with local, national and international partners on the Human Genome Project, on many cancer projects and on reference genomes for a diversity of species. In 2003, it was the first in the world to sequence the genome of the SARS coronavirus. By 2006, it received the Solexa (now Illumina) sequencer and became known for high throughput and large scale DNA sequencing. Today, the GSC has produced more than 2 peta-bases (2 X 10e15) of DNA sequence, equivalent to the number of base pairs in more than 660,000 human genomes.

The GSC has trained more than 1,300 highly qualified personnel and published nearly 1,300 peer-reviewed papers, which have attracted more than 95,000 citations. It has been part of more than 850 research projects and has contributed to thousands of national and international research collaborations. Its principal investigators have been leaders on projects awarded more than $1.1 billion from more than 95 funders. In 2018, nine GSC researchers were recognized among the most highly cited in their field in the world.

The GSC is now positioned to lead the next phase of genomics, alongside the very best in the world. It is positioned to bring its technology and science into entire populations of patients, contributing to disease prevention, diagnosis and treatment, uncovering unanticipated therapeutic targets, identifying risks for hereditary cancers and revealing the causes of rare diseases, all the while making fundamental discoveries that inform the global understanding of disease biology.