SSAKE
SSAKE is a de novo Genome Assembler for Short DNA Sequence Reads
Project Description
SSAKE is a de novo assembler for short DNA sequence reads. It is designed to help leverage the information from short sequences reads by assembling them into contigs and scaffolds that can be used to characterize novel sequencing targets. SSAKE is the first published algorithm for genome assembly with short DNA sequences. Algorithms of SSAKE are the core of many genomics applications (eg. VCAKE, QSRA, SHARCGS, SSPACE, JR-Assembler) and their design continues to inspire new-generation assemblers1 (eg. JR-Assembler, PNAS 2013). Applications of SSAKE extend beyond genome assembly and the technology was applied to profiling T-cell metagenomes, targeted de novo assembly, HLA typing and was key to the discovery of Fusobacterium in colon cancer.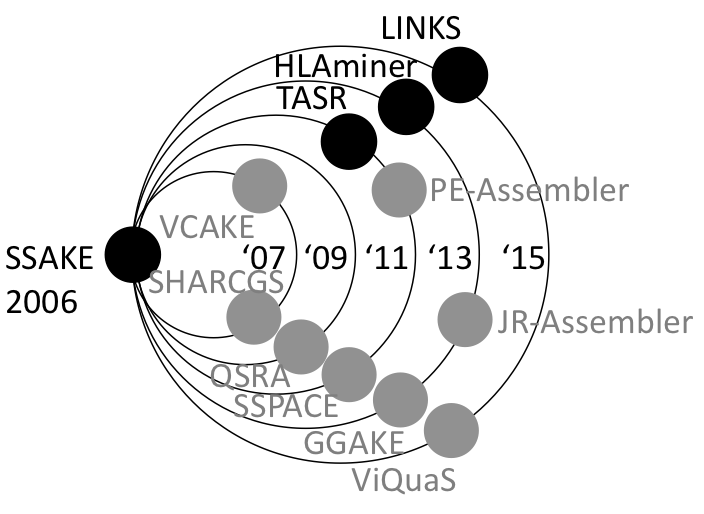 *Best performance is achieved by quality-trimming your reads before assembly (refer to the tools folder and SSAKE.readme/SSAKE.pdf)

Enjoy SSAKE responsibly!
About the author: www.renewarren.ca
Summary
SSAKE is written in PERL and runs on Linux. SSAKE cycles through short sequence reads stored in a hash table and progressively searches through a prefix tree for extension candidates. The algorithm assembled 25 to 250 bp sequence reads from viral, bacterial and fungal genomes.  SSAKE is lightweight, simple to setup & run and robust.
Experimental, NGS test data
An experimental, quality-trimmed, Illumina MiSeq sequence dataset (PE150, Colorectal cancer tumor isolate bacteria C.showae CC57C [PRJNA189774]) is available for testing SSAKE : ftp://ftp.bcgsc.ca/supplementary/SSAKE
To download and assemble, simply execute the following script from the ./test repository included with SSAKE v3.8.2:
./test/MiSeqCampylobacterAssembly.sh
If you use the data in your research, please cite:
Citing
If you use SSAKE in your research, please cite:
License
Copyright (c) 2006-2014 Canada's Michael Smith Genome Science Centre. All rights reserved.
This program is free software; you can redistribute it and/or modify it under the terms of the GNU General Public License as published by the Free Software Foundation; either version 2 of the License, or (at your option) any later version.
This program is distributed in the hope that it will be useful, but WITHOUT ANY WARRANTY; without even the implied warranty of MERCHANTABILITY or FITNESS FOR A PARTICULAR PURPOSE. See the GNU General Public License for more details.
Released Apr 25, 2014
This release includes an option (-j) for adjusting the kmer length when running SSAKE in TASR mode (-s). A recent Illumina MiSeq dataset is available for testing SSAKE's performance: ftp://ftp.bcgsc.ca/supplementary/SSAKE
More about this release…
ssake_v3-8-2.tar.gz

If you are using Plone 3.2 or higher, you probably want to install this product with buildout. See our tutorial on installing add-on products with buildout for more information.
All Releases
Version
Released
Description
Compatibility
Licenses
Status
3.8.2

Apr 25, 2014

This release includes an option (-j) for adjusting the kmer length when running SSAKE in TASR mode (-s). A recent Illumina MiSeq dataset is available for testing SSAKE's performance: ftp://ftp.bcgsc.ca/supplementary/SSAKE

More about this release…

GPL

final