LINKS 1.8.6
(Mar 13, 2018)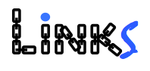 Pipelined with ARCS, LINKS v1.8.6 prioritizes paths with shorter gaps only when there are no ambiguous gap distance estimates with neighboring sequences
For additional information about this project, please visit the overview page .
Available downloads
links_v1-8-6.tar.gz
For all platforms (669.9 KB)
Release Notes
When pipelined with the ARCS/ARKS scaffolder, LINKS v1.8.6 prioritizes paths with shorter gaps only when there are no ambiguous gap distance estimates with the neighboring sequences considered. Add linkage information (ID and size) to the output .gv graph. We now provide a utility (./tools/consolidateGraphs.pl) to highlight differences between two LINKS graphs. Implement -z min_size with an ARCS checkpoint.