Recap from CCIC/ImmunoBC
June 28, 2018
CCIC and ImmunoBC were last week. The lab was impressed by all the exciting research happening within Canada, and were also excited to get a chance to share what we've been working on. Congratulations to Scott for taking home 1st Place in the Speed Poster competition!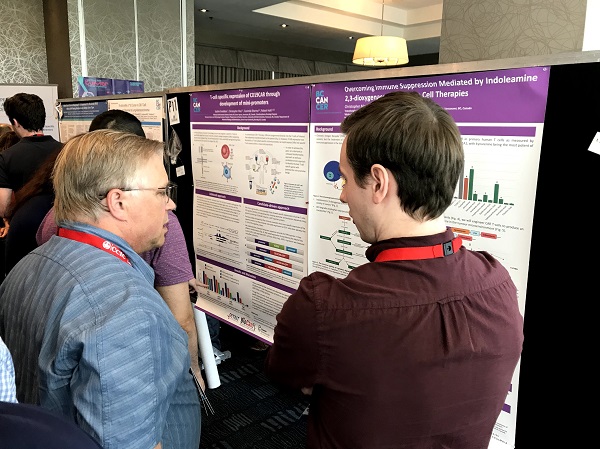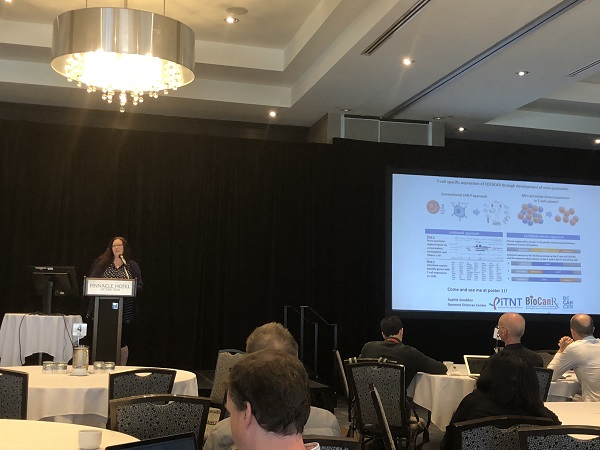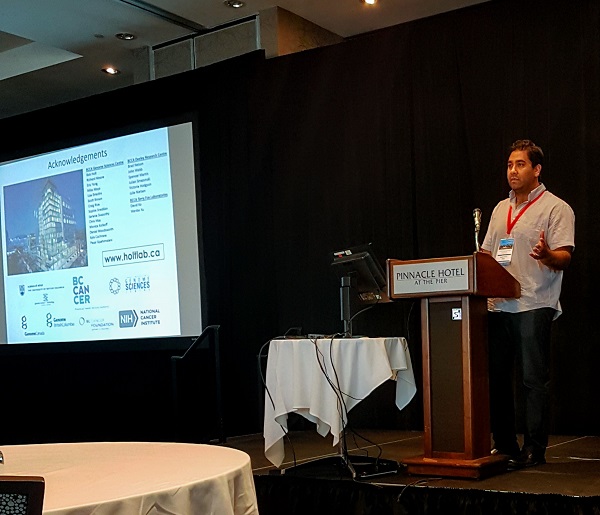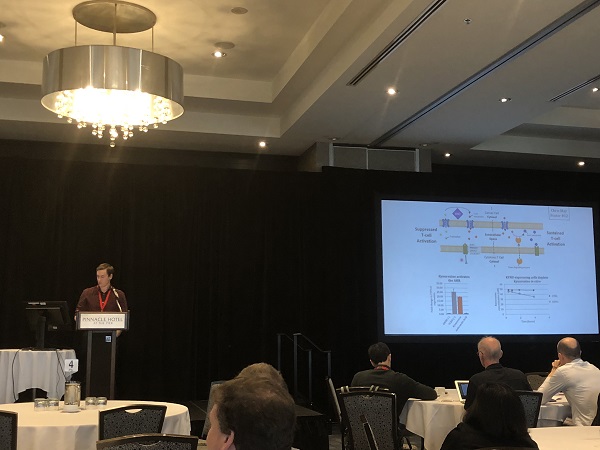 Look for the Holt Lab at this year's CCIC/ImmunoBC!
June 15, 2018
Next week is the joint meeting between Canadian Cancer Immunotherapy Consortium (CCIC) and ImmunoBC, and most of the lab will be there. We're looking forward to sharing our most recent work with you - come by and say 'Hi!'. Govinda and Scott will be presenting their poster's on Monday, Chris, Sophie and Eric on Tuesday, and Govinda will be giving a presentation on Wednesday.
Congrats Chris!
March 9, 2018
Way to go Chris! He took home a poster prize at this year's B.I.G. Research Day (a joint event between UBC's Bioinformatics, Integrative Oncology, and Genome Science + Technology programs)
Time for that annual Holt Lab tradition!
December 28, 2017
Once again the lab gathered at the Holt household for holiday merriment. And of course we got another group photo in front of the famous wall!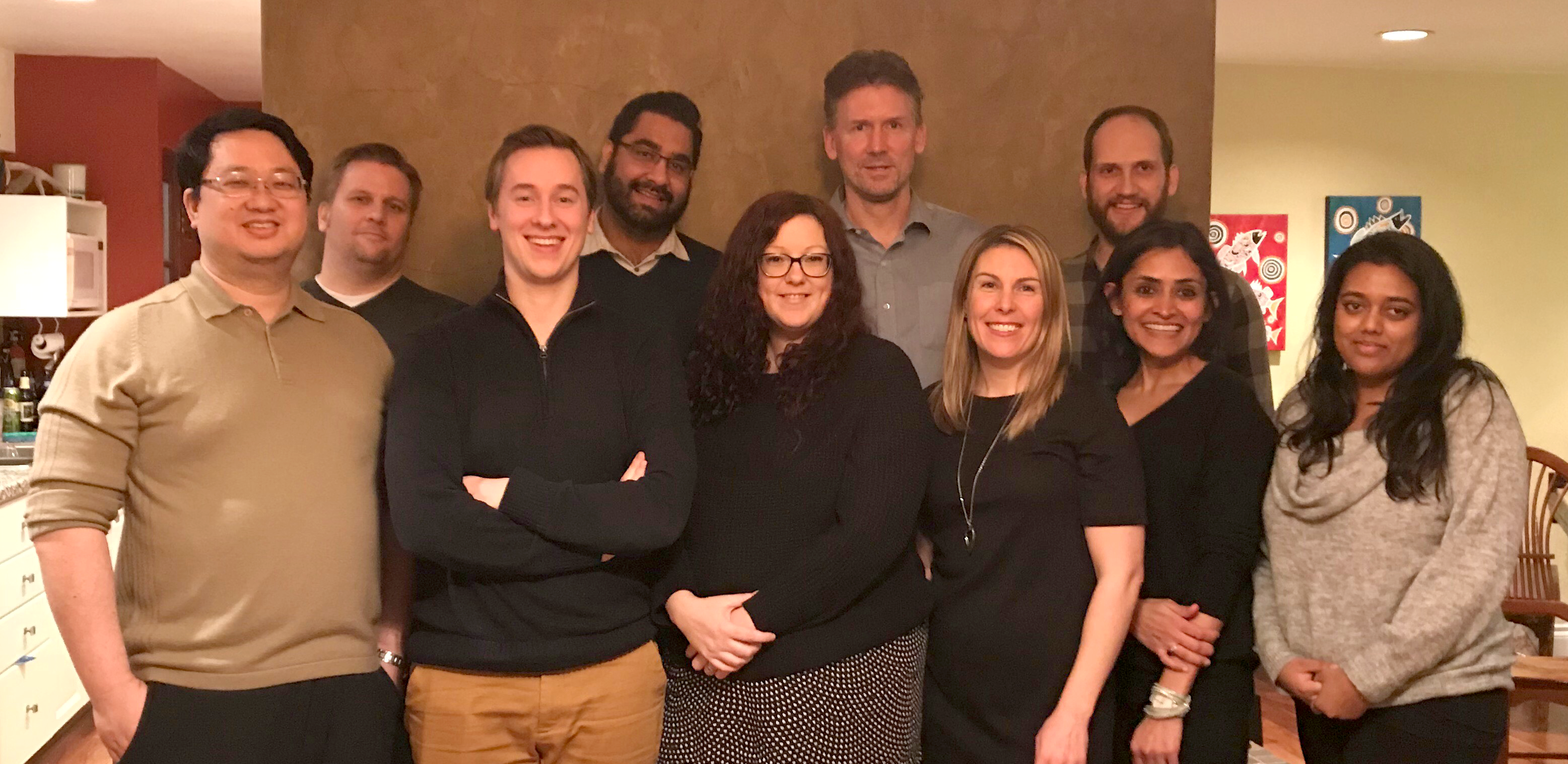 Just what is CAR-T cell therapy anyways?
December 19, 2017
Check out Rob's recent interview with BC Cancer, talking about CAR-T cell therapies! Read it here.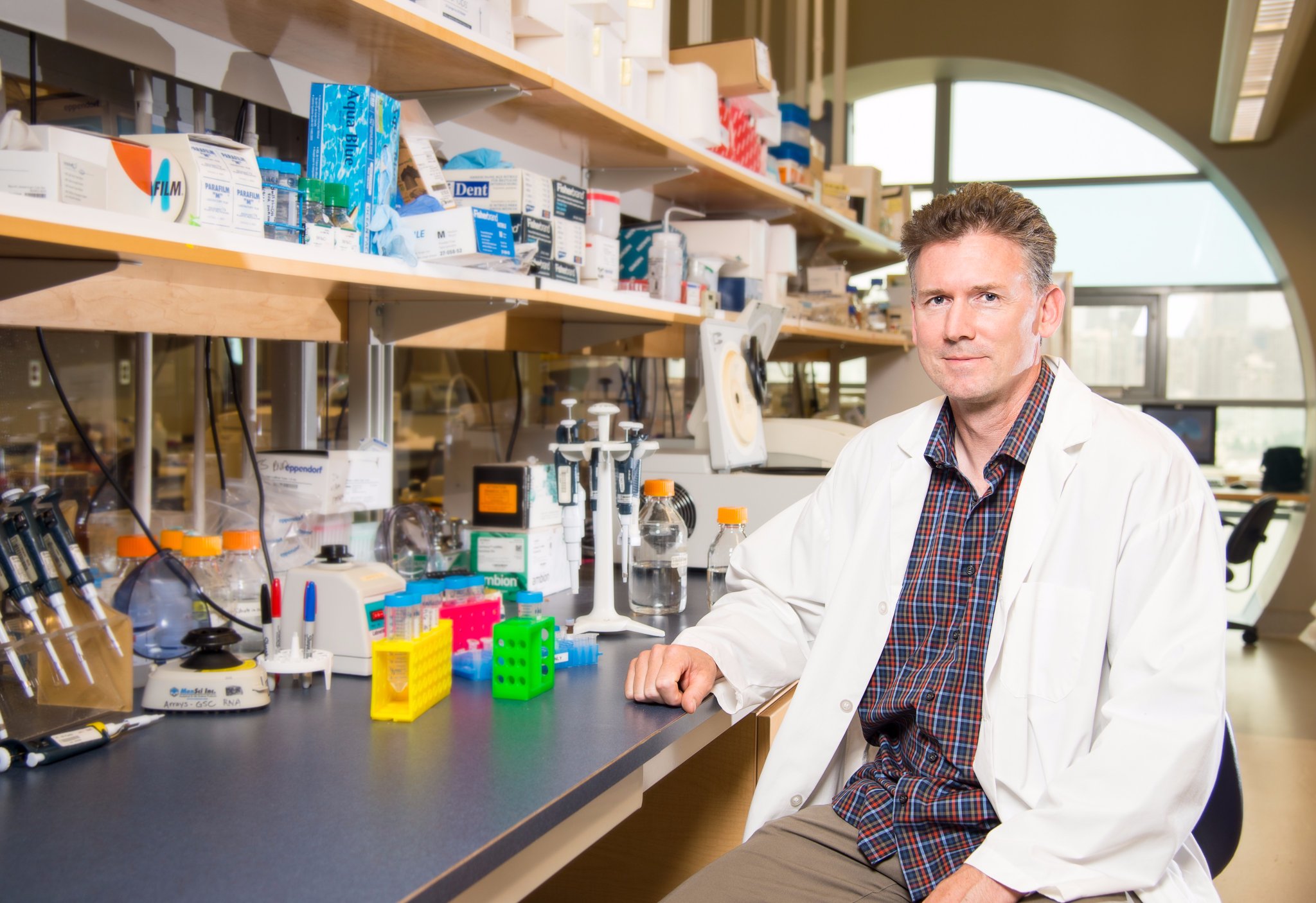 Fuso strikes again - travels with cancer as it spreads
November 23, 2017
The New York Times highlights some recent work to understand Fusobacterium nucleatum's role in the development of colon cancer. Read it here: Why is this bacterium hiding in human tumors?

Representation at Mastering Immunity 6
September 21, 2017
Govinda attended and presented his research at the ProImmune Mastering Immunity 6 conference in Boston, MA last week. His presentation will be available online at https://www.proimmune.com/ecommerce/page.php?page=Conference_Video.
BC's cutting-edge cancer research
July 13, 2017
Take a peek at some of the work our lab is doing to get a CAR-T clinical trial up and running in Canada. A similar therapy has been recommended to be approved in the US, after showing remarkable improvement over standard treatments in phase two clinical trials. We think Rob summarized it best: "There's an element of excitement among the team and within the field that I haven't seen for a very long time." http://globalnews.ca/video/3598097/b-cs-cutting-edge-cancer-research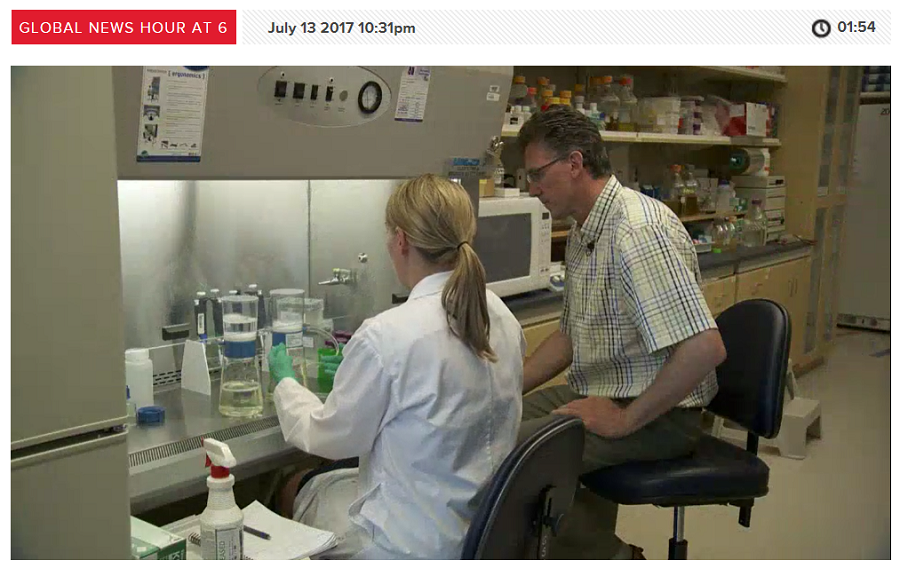 Some photos from BioCanRx Summit4CI 2017!
July 11, 2017
Almost the whole lab made the journey to Gatineau, Quebec for the BioCanRx Summit for Cancer Immunotherapy. We had four days filled with great talks, workshops, and networking opportunities (including some time at the casino!).
Kyla being introduced by Rob: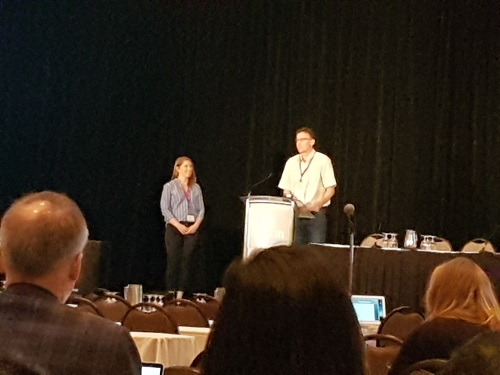 Govinda getting set for his talk: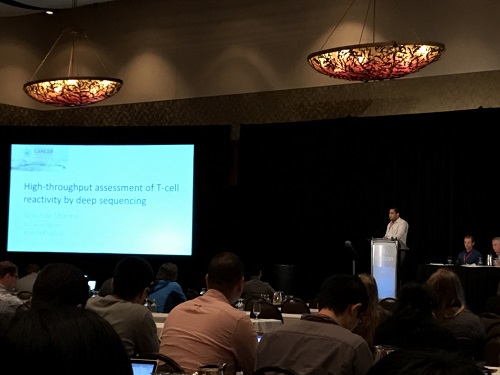 Some conference dinners: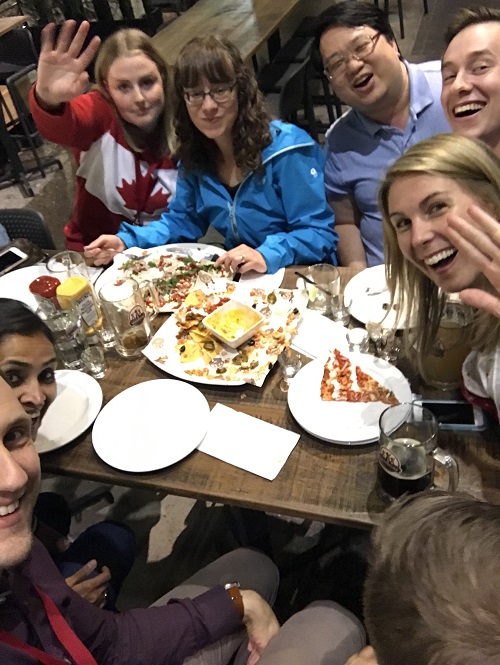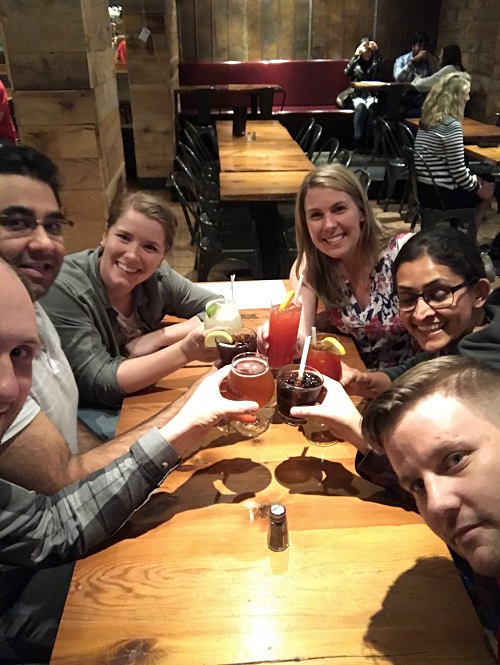 Casino night!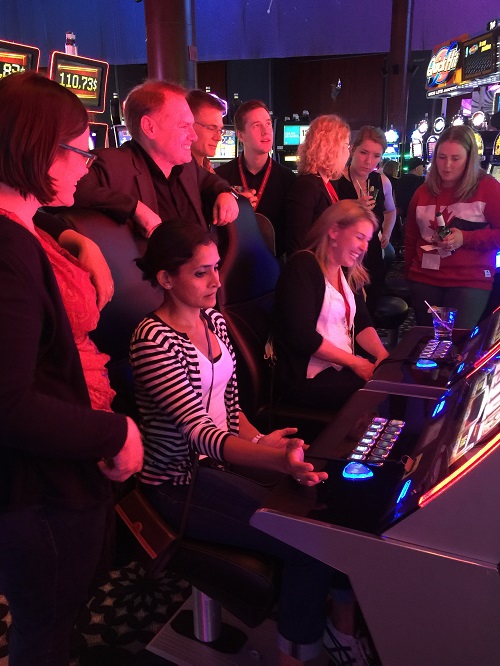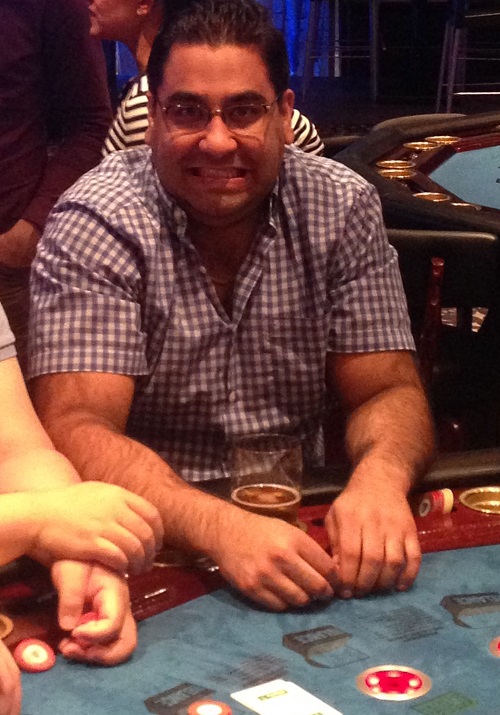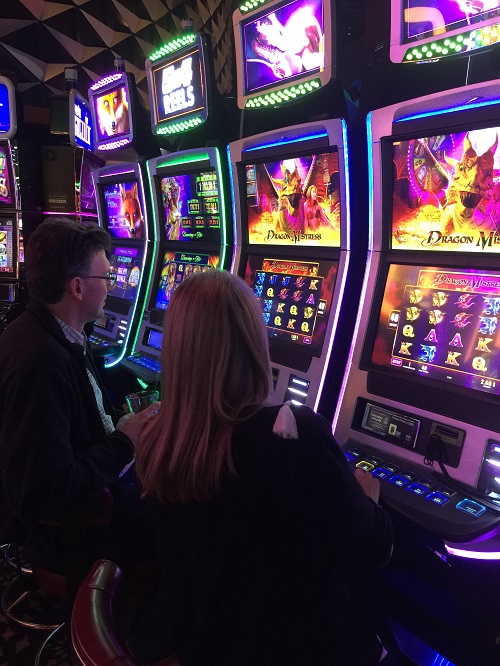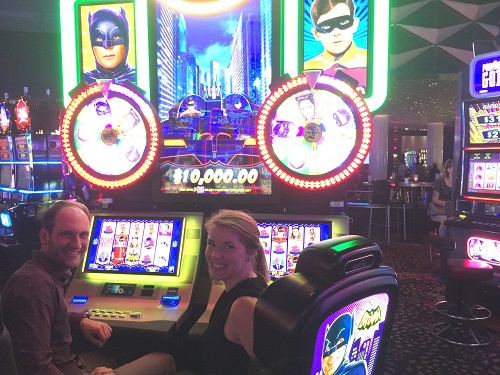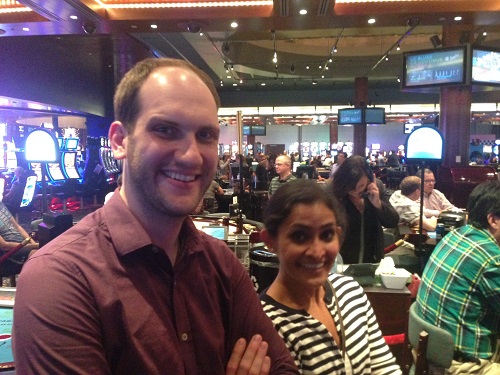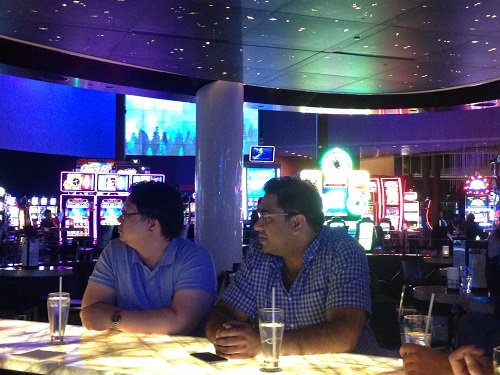 Congratulations and good luck, Dr. Woodsworth!
May 29, 2017
Daniel Woodsworth successfully defended his PhD Thesis today! A big congratulations to him, and we wish him good luck as he returns to medical school!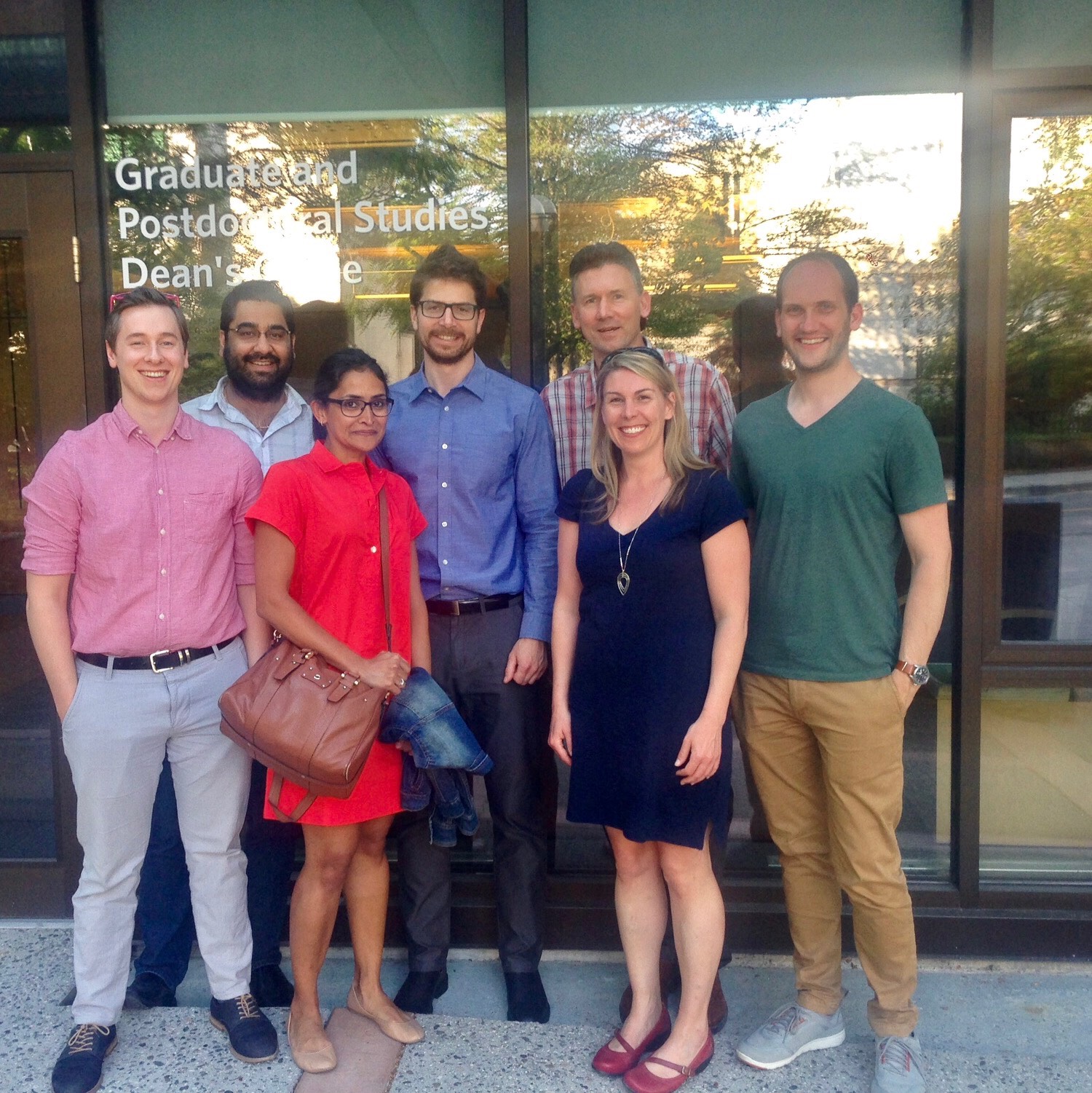 News highlight on CAR-T therapies
March 14, 2017
Some coverage on the CAR-T work our lab and the Nelson lab in Victoria are working on, as reported by Global News: B.C. researchers working to bring 'game-changing' cancer treatment to Canada.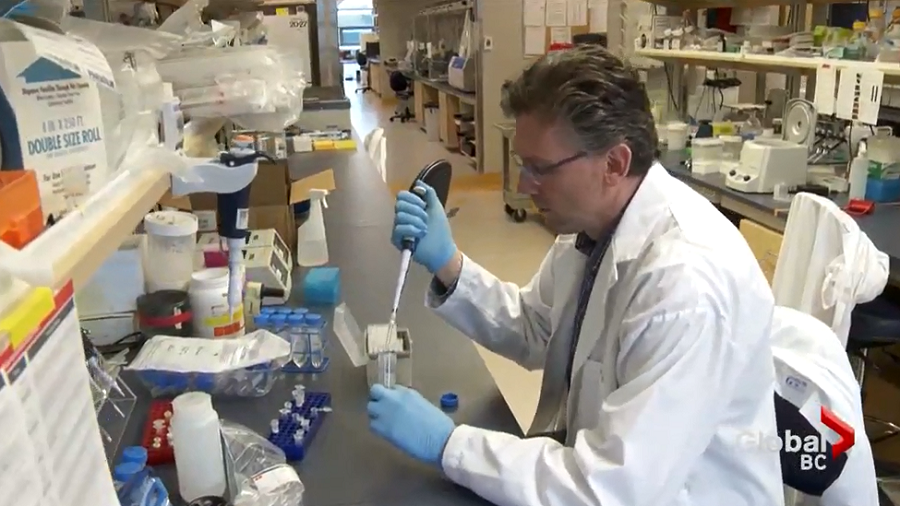 See you soon, Sophie!
February 2, 2017
Sophie Sneddon has formally submitted her Ph.D. Thesis for review, and will soon be joining our lab as a Post Doc. Way to go, Sophie!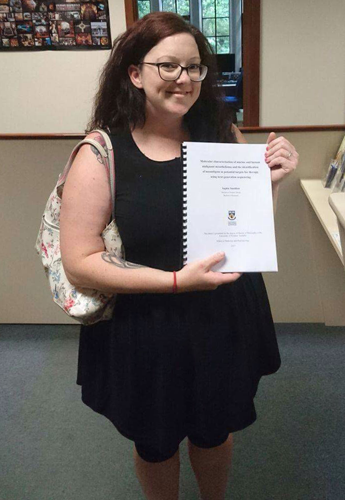 Publication watch!
January 24, 2017
Daniel published an opinion piece in Trends in Molecular Medicine. Read about Cell-Based Therapeutics: Making a Faustain Pact with Biology!
Welcome to Craig Rive
January 16, 2017
Welcome to Craig! When Rob visited Australian, some of Australia came back with him. Craig has taken a Post-Doc position in our lab. We look forward to what he can bring to the team!
PepTalk 2017
January 12, 2017
Govinda gave a talk on his high-throughput epitope discovery screening method at PepTalk 2017 in San Diego, California.
A Holt Lab Christmas - 2016
December 21, 2016
The lab gathered for the annual Christmas get-together. Keeping with tradition, we took another photo in front of the wall - only one person had to be badly photoshopped in! It's neat to compare, reflect on the past year, and see how the lab has changed. Below is the 2016 photo, followed by the 2015 photo for comparison!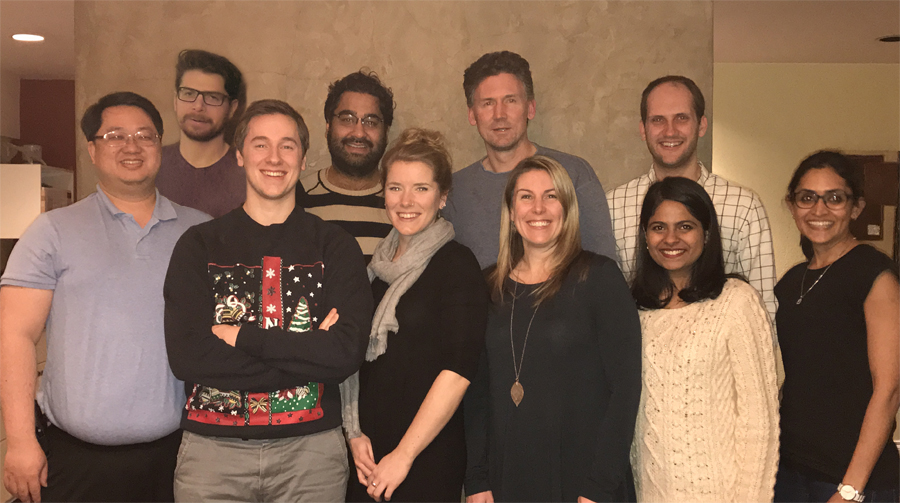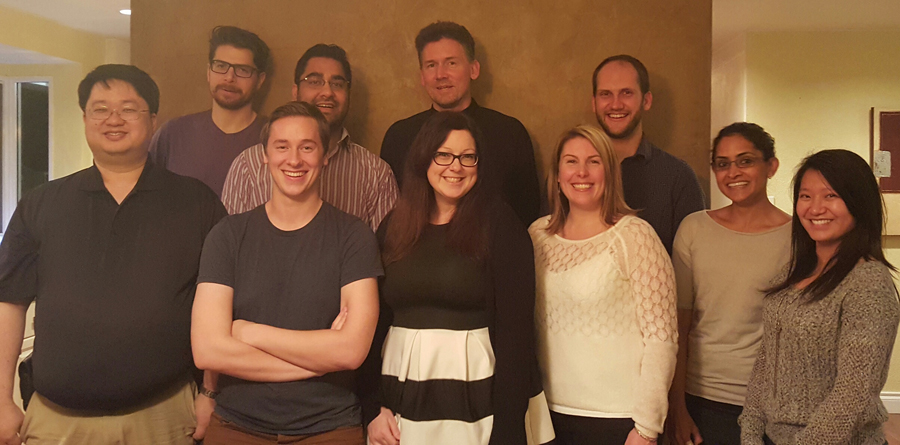 Defining peripheral T cell lymphomas from RNA-seq data.
December 21, 2016
A new publication from our lab! Scott Brown and Greg Hapgood (PhD student with Dr. Kerry Savage) co-authored a paper on definining clonality in peripheral T cell lymphomas using shallow RNA-seq data. Read all about it here: https://academic.oup.com/bioinformatics/article/2730232/Defining-the-clonality-of-peripheral-T-cell
Cell Symposium: Technology. Biology. Data Science.
October 11, 2016
Scott was in Berkeley, California for the Cell Symposium on Technology, Bioology, and Data Science. It was a very interesting and educational conference from researchers across many diverse fields.
Scott's talk from the conference is available here: Scott_TBDS_talk_2016.
Michael Smith Foundation for Health Research Trainee Awards 2016
July 11, 2016
Congratulations to Kyla Cochrane who received the MSFHR Trainee Award today!
Congratulations!
June 5, 2016
Congratulations to Spencer and Scott! Scott passed his PhD Comprehensive Qualifing Exam on May 31st, while Spencer successfully defended his PhD Thesis on May 27th! Dr. Martin will be beginning medical school at UBC this fall - congratulations and good luck!
Constructing a TCR-pMHC database - Ishmum Ataur
April 25, 2016
Congratulations to Ishmum Ataur (Grade 10, Britannia Secondary School) on his recent successes at the Greater Vancouver Regional Science Fair and Sanofi Biogenius Canada competition! Ishmum is being mentored by Scott, and has been working on developing a Tumour-Specific TCR-pMHC database. So far, he has received the following awards:
• First Place at his school Science Fair
• First Place at the District Science Fair
• Gold Medal at Greater Vancouver Regional Science Fair (GVRSF)
• Genome BC Award at GVRSF
• Chief Judge Award (Best project selected by Chief Judge) at GVRSF
• Grand Award at GVRSF - sending him to Canada Wide Science Fair at McGill University in May, 2016
• Genome BC Genomics Prize at the Sanofi Biogenius Canada competition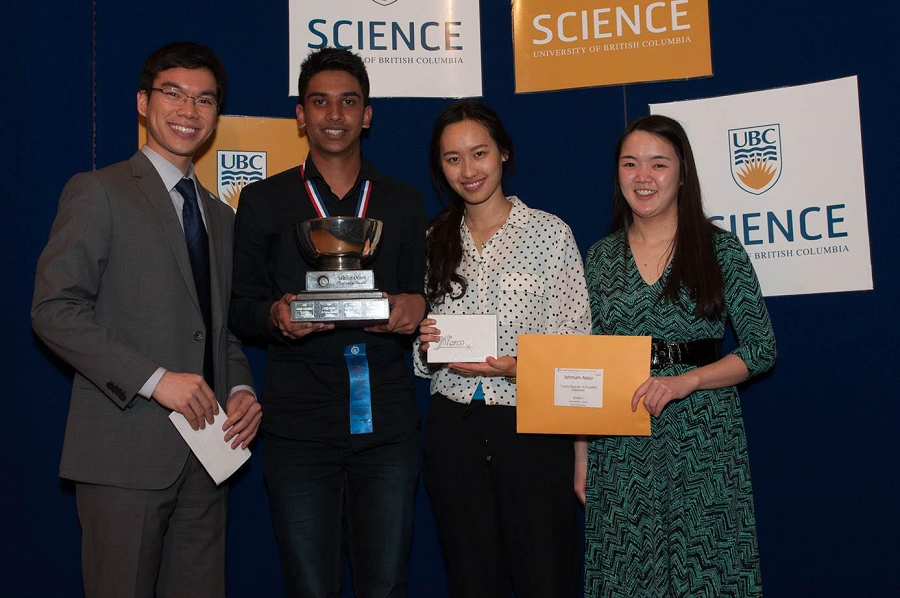 Good luck in Montreal, Ishmum!
Welcome to Kyla!
March 1, 2016
We'd like to extend a warm welcome to Dr. Kyla Cochrane! Kyla comes from Dr. Emma Allen-Vercoe's lab at the University of Guelph, and has previously collaborated with the Holt Lab in characterizing anaerobic bacteria associated with colorectal carinomas.
Until next time, Sophie!
December 14, 2015
Farewell to Sophie, who has gone back to her home university in Australia! Be sure to keep an eye on Rob for us while he is down under!
A Holt Lab Christmas
December 6, 2015
The lab gathered for a Christmas get-together, and almost everyone could make it!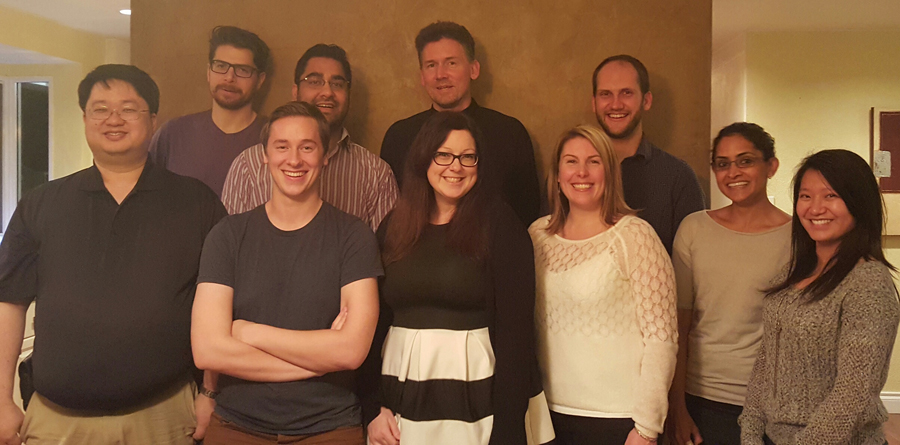 T Cell Receptor profiling from RNA-seq
November 30, 2015
Latest research published from our lab: Scott's work on an optimized method to extract T cell receptor sequences from RNA-seq data published in Genome Medicine titled "Profiling tissue-resident T cell repertoires by RNA sequencing."
Briefly summarized: This method allows for the detection of T cell receptor CDR3 sequences from the most abundant T cells present in a sample. The method has been optimized for RNA-seq data, and was then applied to thousands of solid tumour RNA-seq data sets from The Cancer Genome Atlas.
Intelligent Immune Design
November 19, 2015
Rob recently wrote an Editorial published in Genome Medicine titled Immunogenomics: a foundation for intelligent immune design."
Briefly summarized: The complexity of the immune system is now being interrogated using methodologies that generate extensive multi-dimensional data. Effective collection, integration and interpretation of these data remain difficult, but overcoming these important challenges will provide new insights into immune function and opportunities for the rational design of new immune interventions.
BC Cancer Foundation Immunogenomics Blog Posts
November 3, 2015

This month, the BC Cancer Foundation is featuring members of the Holt Lab on it's blog. Take a look at our posts throughout the month!
Genome Medicine Special Issue!
November 1, 2015
Rob is guest editing a special issue of Genome Medicine on Immunogenomics in Health and Disease! Articles will be released as part of this issue all month, so be sure to check back periodically.
Welcome to Sophie!
September 22, 2015
Welcome to our new visiting Ph.D. Student from Western Australia, Sophie Sneddon!
Immune Profiling in Health and Disease
September 9-11, 2015
Rob, Govinda, and Scott will be attending the Immune Profiling in Health and Disease conference in Seattle.
The poster session in the beautiful Garden Room of the Fairmont Olympic Hotel: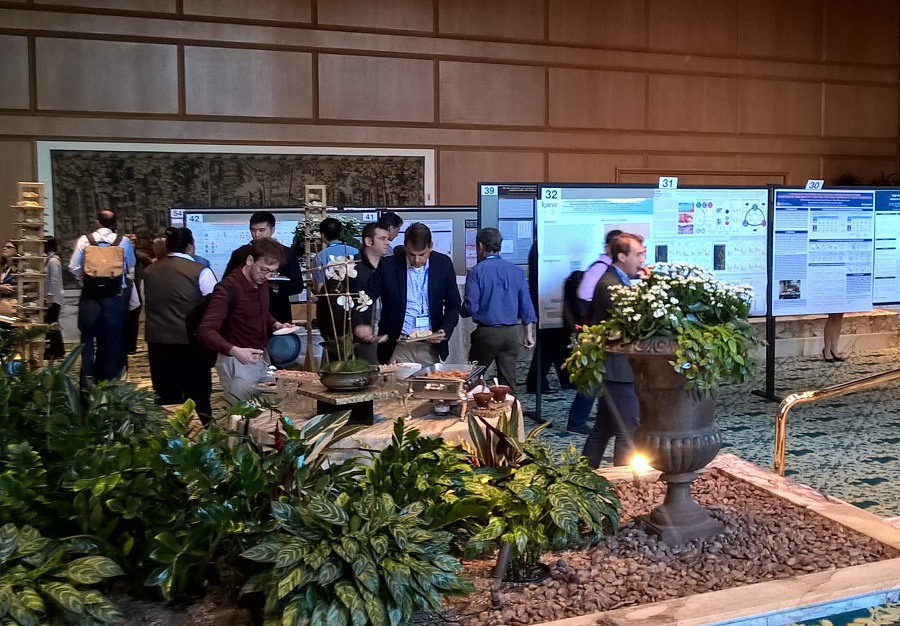 Adaptive Biotechnologies (co-organizers of the conference) hosted a rooftop reception at their headquarters: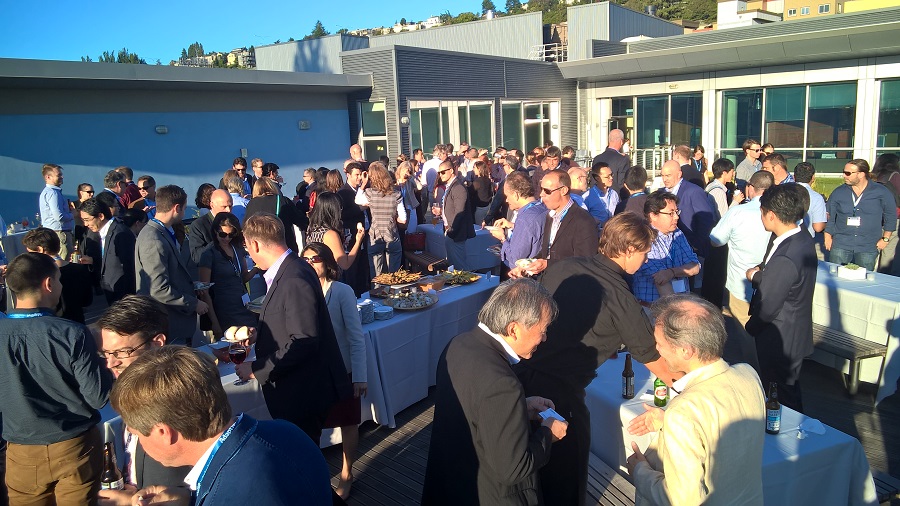 Welcome to Alice!
September 8, 2015
The long weekend is over, and it's a new semester - the perfect time to welcome a new UBC co-op student to the lab: Alice Wang.
Farewell to Jelena and Michelle!
August 28, 2015
We say goodbye to Jelena Sihvonen and Michelle Ng! Jelena is returning to UBC to continue her undergraduate degree, and Michelle is headed to Germany to begin her PhD!
To send them off in style, the lab went out to OJ's!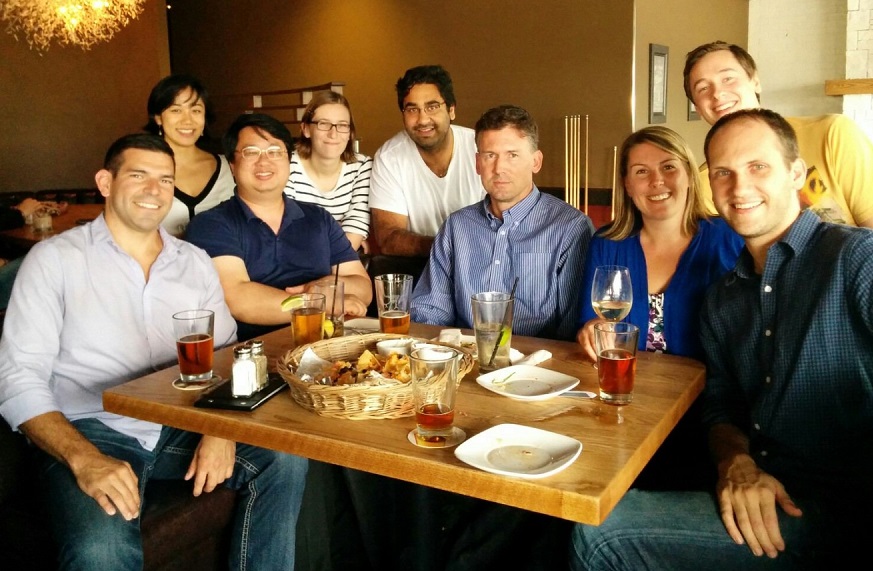 TFRI BC Node Research Day 2014
November 12-13, 2014
Look for us at the Annual TFRI BC Node Research Day in November.
HudsonAlpha-Science Immunogenomics 2014
September 28 - October 1, 2014
Did you catch us at the conference in Huntsville, Alabama? Scott gave a presentation on 'Decoding the cancer T cell repertoire using large scale RNA-seq data,' and Daniel presented a poster on 'A Lymphocyte Based Cell-To-Cell Therapeutic Delivery System'. Rob even came up from AACR in New Orleans to join in!
AACR International Conference on Frontiers in Cancer Prevention Research 2014
September 28 - October 1, 2014
Rob was in attendance, and gave an engaging talk on the microbiome!
Farewell, Dr. Castellarin!
September 11, 2014
Dr. Mauro Castellarin successfully defended his PhD thesis (Genomic Analysis of Infectious Agents, Mutations and Immune Cells Associated with Cancer) on Tuesday, September 2, 2014. He is moving South for a post-doc position in Dr. Carl June's lab at the University of Pennsylvania. Good luck, Dr. Castellarin!
RiboWest 2014
June 18-21, 2014
Ewan took a roadtrip to Lethbridge, Alberta to give a talk at RiboWest 2014 on lncRNAs and cancer!
ImmunoBC 2014
June 5, 2014
Holt Lab members shared their research at ImmunoBC 2014 (formerly ImmunoVancouver).